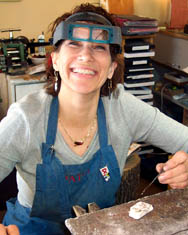 For the past 42 years, Patty Conlin has been working as a goldsmith and jewelry designer.
She spent her career life exploring the limits of the medium – working (and playing) with gold and beautiful gemstones.
Patty has concentrated on creating unique pieces as wearable sculpture. She especially enjoys the challenge of custom designing for individual customers. Including their needs and wants into a new design is exciting, challenging and satisfying. She is very passionate about her art and is grateful that she has been able to make a living doing what she loves.