Sharon Miller Thompson Pottery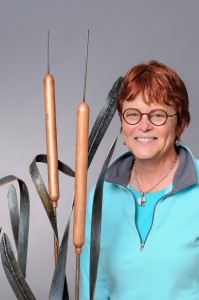 As an artist I have worked in a variety of media for almost 4 decades, jewelry, weaving, hand dyed textiles, photography, and the list goes on.
I found my love of clay while I was a student teacher in a high school art department. It was love at first touch. So much so, that I set up a studio in my house, so I could work with clay after I came home from teaching Ceramics to teenagers all day. During my teaching career, I also got the opportunity to discover welding and ironwork, while creating an interdisciplinary sculpture garden. For me, the two fit together perfectly.
I love mixing clay pieces with iron and copper work, creating functional pieces for the garden. In 2000, Yardly Art was born. Five years later I made the decision to leave the secure, regular paycheck career and become a fulltime artist. I have never regretted the decision. Learning to live on an irregular income took a while to master.  The concept of "fulltime" as an artist is far more than 40 hours a week, but the saying "If you can do what you love, you will never go to work a day in your life" is true for me.
Over the last 15 years, Yardly Art has grown to the point where my interests are split between making art pieces for art fairs or galleries, with the majority of my time spent creating commission work in either custom ironwork (gates, railings, sculptural fences, etc.) or handmade tile (fireplace surrounds, kitchen backsplashes, etc.).
The commission work that I do is challenging and engaging. The clients that I work with are wonderful and interesting people. At the beginning of any commission, we sit down and they tell me about their needs and interests, then I have the opportunity to take what I have learned from them and create a unique piece that fills their need with function and beauty and will outlast all of us.
The rewards being so great, I can't see a time that I will ever want to stop making things.
Examples of my work can be viewed on my website: www.YardlyArt.com
I can also be contacted via email: shmillert@gmail.com
or by phone: 651.644.5170 or cell: 651.246.8634